I frequently get complimented on my Lily Collins-esque eyebrows, but, spoiler alert, they haven't always looked this full. I tint them. Brow tinting dyes the fine little filler hairs that you normally don't see, giving your brows life. Its only fault? It fades – meaning you need monthly maintenance costing around $20 (plus tip). While that price point probably won't break the bank, I prefer to pocket my Andrew Jacksons and recreate the results at home. (Have you ever noticed the brows on that man?!?)
For tinting at home
My go-to is Godefroy Professional Tint Kit in the color "medium brown." This $18 kit lasts for 20 applications and comes with all the essentials you need to get started including: dye capsules, developer, an angled makeup brush and a mini mixing bowl.
To tint, you simply empty the pre-measured powdered capsule, add squeeze of developer, stir it together and apply. About 5 min later, wipe off the mixture to reveal fuller-looking brows!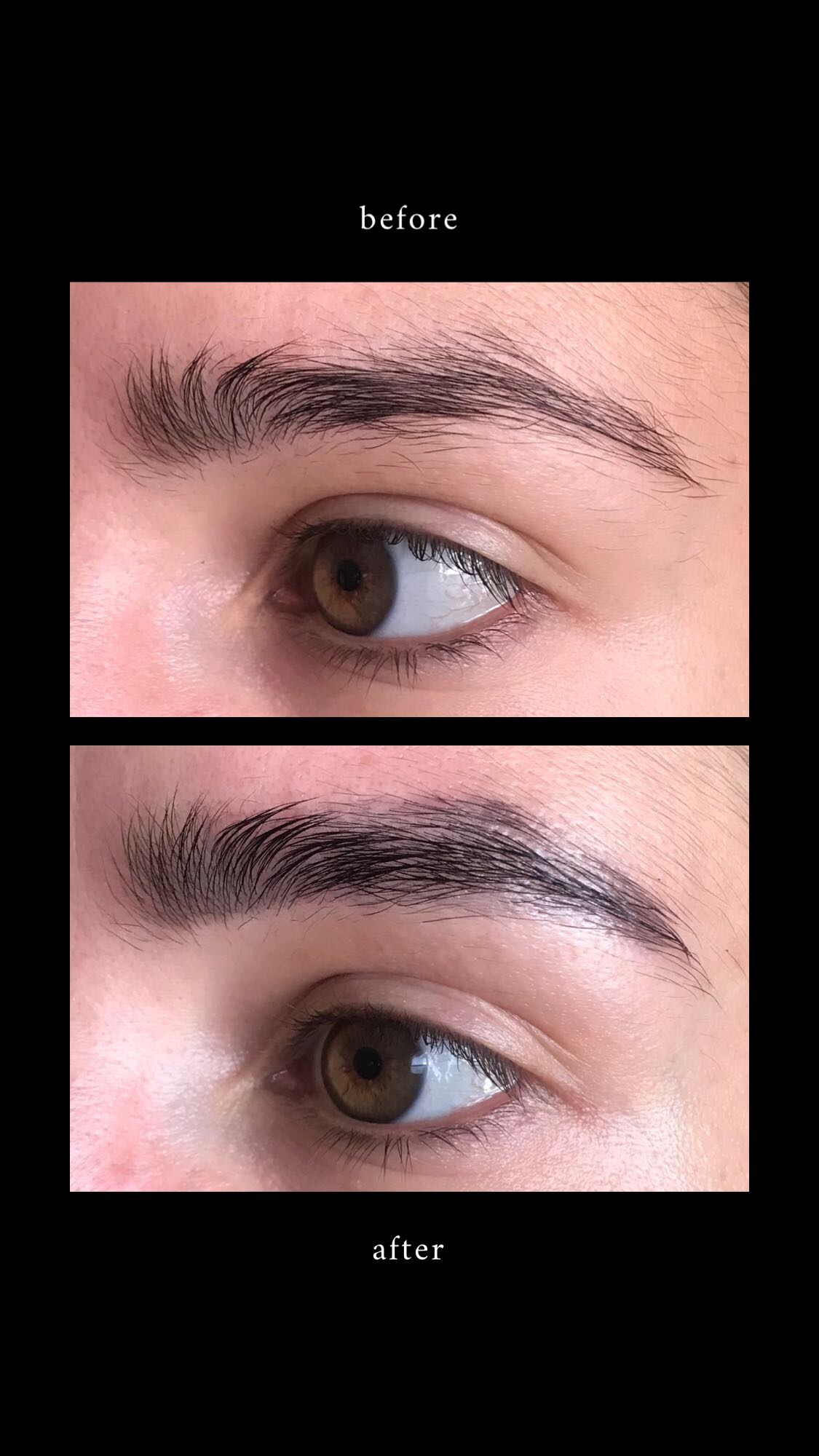 Prefer to leave it to a professional?
If you live in LA, my go-to-gal is Fiorela (@amourviafior #beautybyfiorela). She is the best in the biz and also the sweetest human. Whenever I see her for a tint and wax, I leave with my brows feeling fuller than they were when I walked in. She's seriously a miracle worker. I pulled a few before & afters from her IG so you can for see for yourself!
If you live outside of LA, I'd recommend Benefit Cosmetics. Just do a little research on Yelp before you make your appointment. Scroll to see who is commonly raved about and book with her. If you want walk-in without an appointment, my suggestion would be to scout out the esthetician with the best brows and wait until she has an opening. If you're going in for a wax/tint, I promise you it's better to wait than spend months trying to grow out your brows. If your girl's eyebrows don't suit your aesthetic (i.e. super thin, overly arched, heavily drawn in, etc.), find another person. Odds are that's how she likes them and will likely style yours. This is not always the case, but generally a good rule of thumb.
Too hesitant to tint? Try my fav temporary fixes!
Benefit Gimme Brow ($24) - Tiny microfibers attach to your existing hairs to give brows a fuller appearance.
Anastasia Beverly Hills Brow Powder Duo ($23) - This two-toned pallet allows you to create soft, natural-looking, smudge-proof brows. I use the shade medium brown. (I recommend opting for cooler shade powders over warmer hues. Ashier tones create the illusion of a shadow as opposed to feeling painted on.)
Diorshow Brow Styler Ultra-Fine Precision Brow Pencil ($29) - My fav for creating delicate "hair-like" strokes. The universal shade works on brunettes and blonds alike.